I've been trying to promote my technology blog through LinkedIn for as long as it's been out there, and all has been going pretty well.
Google analytics audience overview for the last 3 years would please any stock trader if this were a stock chart:

Well, at this rate my blog might be following in the footsteps of Tesla stock… in the sense that one day it might just experience a real breakthrough, hit unexpected highs, and…
And, actually, I would not be sure what's next

The blog itself has always been my way of summarizing the knowledge I have acquired – it was not even so much about sharing that knowledge, a big part of it was literally my way of digesting pieces of information, bringing them together, and expressing them in the blog just to understand them even better.
Over time, it has proven to be a good tactic, as you can see from the chart above, but the interesting part is that those numbers – they are just numbers. It's not a money-making blog, I am not selling anything here…
There are, of course, some reputational gains, though I am not sure they matter that much. To start with, this blog is, probably, the main reason I've been recognized by Microsoft as a Most Valuable Professional (MVP). Don't get me wrong, that recognition is a big deal in my field – in a way, the fact that I was recognized an MVP is something I can probably keep mentioning for the rest of my professional career. And it happened not once, but 3 times in a row so far (which is nothing compared to 15+ times for some of the fellow MVP-s, but it still quite a bit). Yet, I know a lot of great professionals in my field who have never tried becoming an MVP, but who might, in many ways, be more knowledgeable than I am.
It's this blog that made me an MVP, and, for that, I'm definitely grateful.
So, where does it go from here?
The answer might not be available right away, but this is what lead me to looking at the numbers a bit more, and they are, well, interesting.
It's great to see tens of thousands of visitors coming to this blog monthly, but where are they coming from?
This is where Google Analytics can be very handy. Well, if I were just paying attention to it earlier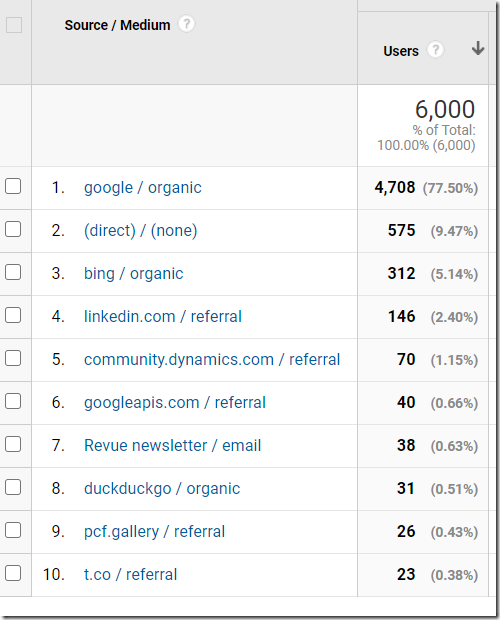 As you can see, google search is where I'm getting most of the traffic from.
I've been very diligent in my efforts to promote this blog through LinkedIn and Twitter. Every now and then, somebody else in the technical community would post a link to my blog, and those links and mentions are always great to see. But, as far as traffic goes, it's still Google that's generating most of it.
Of course it is all related in a way, since, the more references are there, the more credibility my blog has for Google, so the higher it's, likely, ranked in the search results, right? That's just basic SEO. 
For what it's worth, at this point I can say only a few things with certainty about the blog here:
Getting a blog from almost zero to 20K a month is possible, and, I guess, if it were the goal here, it could have been done sooner
No matter what, the main source of traffic, at least in my case, is not direct links – it's Google
And, yet, if not for the links, who knows where it would be now?
Where does the blog go from here is a different question entirely, though. And I might share a few thoughts later, but, for now, I'll just sleep on it.