With the Canvas Apps, there seem to be no simple way to reuse the same "code"/"formulas" without opting for a workaround such as creating a hidden button with all the reusable code bundled into the button's "onselect" handler. In some cases this works great, in others it can be messy.
Here is an alternative – there is "Canvas App Code Reuse" plugin for XrmToolBox:
The way it works is:
Your Canvas App must be added to a CDS solution (it does not have to use CDS data source, though)
In the Canvas App, you can use "code tags" to identify places where code replacement should happen – basically, you need to prepare the mark up for your app by adding commented blocks
//TAGNAME_START
//TAGNAME_END
Everything between those tags will be replace with the actual value of the tag that you'll specify in the plugin
Once the markup is ready, make sure to save the app and publish it
In the XrmToolBox:
Install "Canvas App Code Reuse" tool
Connect to the environment
Open the tool
Select a folder for your "project"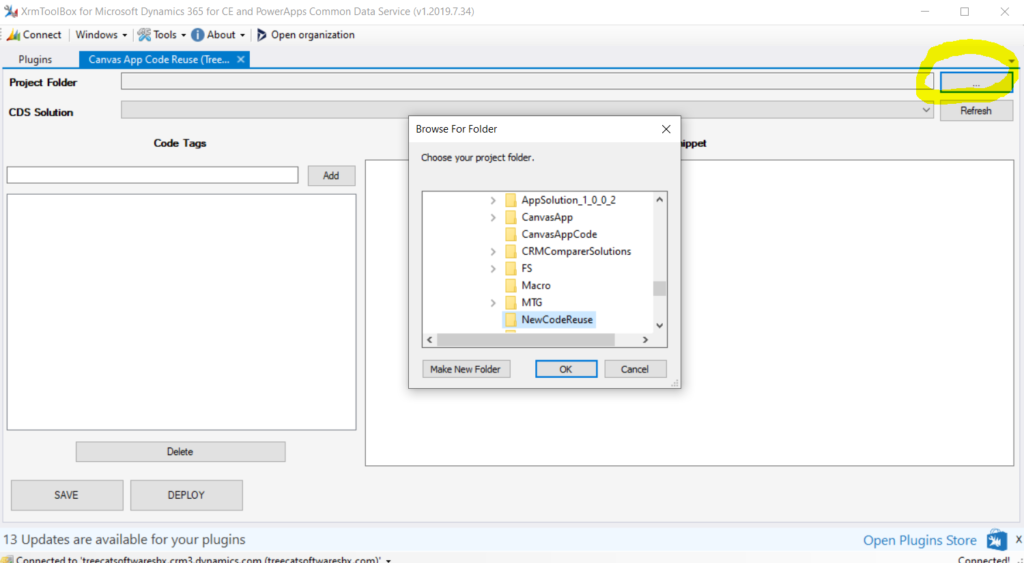 Make sure you have code snippet added

Choose the solution which has your app added (I'd recommend creating a separate solution just for this)

Save the project and deploy the code to your Canvas App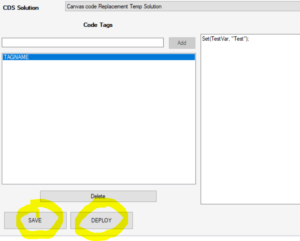 Once you see the confirmation message, re-open your Canvas App in the maker portal. You should see updated code snippet where you had tags before (the process is repeatable – you can keep updating code snippets in the XrmToolBox and re-applying them)
The tool has been listed in XrmToolBox tools repository as of July 15, so you can just install it from there:

PS. A word of caution. This tool will try making changes to your Canvas App. To the best of my knowledge, this should work; however, if, somehow, this breaks your app… The plugin is provided "as is" without any warranties:) And, besides, you should always be able to restore an older version of the app.