Team development for Dynamics has always been a little vague topic.
To start with, it's usually recommended to use SolutionPackager – presumably, that helps with the source control since you can unpack solution files, then pack them, then observe how individual components have changed from one commit to another. But what does it really give you? Even Microsoft itself admits that there is this simple limitation:

https://docs.microsoft.com/en-us/dynamics365/customer-engagement/developer/use-source-control-solution-files
In that sense you might, of course, use git to merge various versions of the solution component files, but that would not be different from manual editing which, as per the screenshot above, is only partially supported.
The only real merge solution we have (at least as of now) is deploying our changes to the target environment through a solution file or, possibly, re-applying them manually in that environment using a solution designer.
That might be less of a problem if all Dynamics/PowerApps source artefacts were stored in CDS. But, of course, they are not. Plugin source code and Typescript sources for various javascript web resources are supposed to be stored in the source control. And even more – the solution itself would better be stored in the source control just so we don't lose everything when somebody accidentally deletes the PowerApps environment.
So what do we do? And why do we need to do anything?
Apparently, developers are used to the best development practices, and, so, there is no wonder they want to utilize the same familiar Git workflows with Dynamics/PowerApps.
I am not sure I can really suggest anything magical here, but, it seems, we still need a way to somehow incorporate solutions into the Git workflow which looks like this: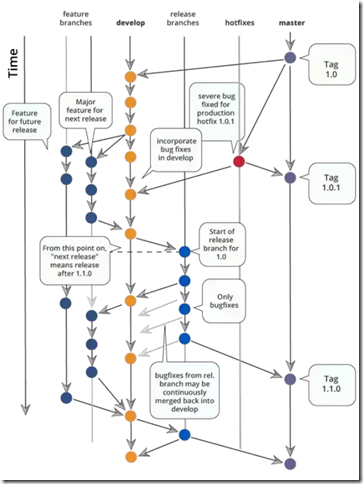 https://www.quora.com/What-is-the-difference-between-master-and-develop-branch-in-Git ( although, I guess the original source is not Quora)
Come to think of it, the only idea I really have when looking at this diagram is:
Creating a branch in Git would be an equivalent of creating a copy environment in Dynamics/CDS
Merging in Git would be an equivalent of bringing a transport solution and/or re-applying configuration changes from the corresponding feature development environment to the higher "branch" environment
That introduces a bunch of manual steps along the way, of course. Besides, creating a new environment in PowerApps is not free – previously, we would have to pay for each new instance. If your subscription is storage-based these days, then, at the very least, you need to ensure you have enough additional storage in your subscription.
And there is yet another caveat – depending on what it is you need to develop on the "feature branch", you may also need some third-party solutions in the corresponding CDS environment, and those solutions may require additional licenses, too.
At the very least, we need two environments:
Production (logically mapped to the master branch in Git)
Development (logically mapped to the development branch in Git)
When it comes to feature development, there might be two scenarios:
We may be able to create a separate CDS environment for feature development, in which case we should also create a source code branch
We may not be able to create a separate CDS environment for feature development, in which case we should not be creating a source code branch
Altogether, the whole workflow might look like this: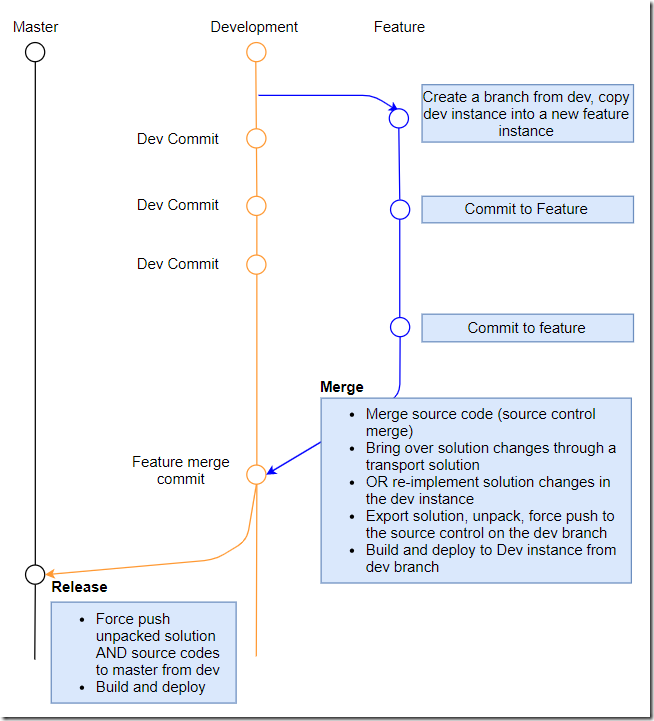 We might create a few more branches for QA and UAT – in that case QA, for example, would be in place of Master on the diagram above. From QA to UAT to Master it would be the same force push followed by build and deploy.
Of course there is one remaining step here, which is that I need to build out a working example, probably in devops…
PS. On the other hand, if somebody out there reading this post has figured out how to do "merge" of the unpacked solution components in the source control without entering the "unsupported area", maybe you could share the steps/process. That would be awesome.