Normally, I don't like participating in any kind of Dynamics vs SalesForce vs Oracle vs .. discussion, since, in my mind, those are all great products, and the success of every particular implementation depends more on the skills and experience of the team working there than on the product itself. So the purpose of this post is not to start such a discussion.
However, I was looking for some reviews of the Field Service and found Gartner Peer Insights site below. There is something interesting about the numbers – you can actually see them for yourself here:
https://www.gartner.com/reviews/market/field-service-management/compare/microsoft-vs-salesforce-vs-sap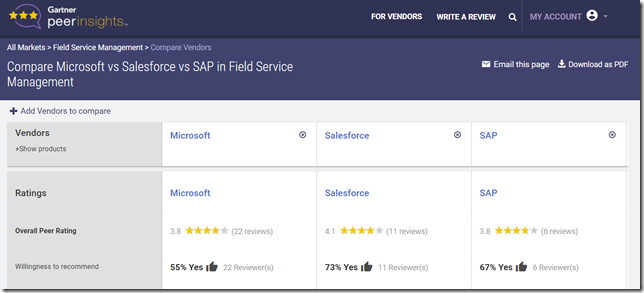 Even though Microsoft has the same overall peer rating as SAP, and it's not that far behind SalesForce from that standpoint,  there is a huge difference in the percentage of Microsoft customers who would be willing to recommend Dynamics when you compare that to the SalesForce or SAP customers. Well, that difference is not in favor of Dynamics, that's the interesting part.
Just a little over 50% of the clients would be willing to recommend the product.. I am not a specialist in the client attrition etc, but I have a feeling that's a bit too low. Not sure why it's happening.. but I am wondering if some of that is caused by all the changes Dynamics has been going through in the last few years (branding, portals, licensing, solutions lineup, etc)?
Either way, whatever it is, those are some interesting numbers to consider. I'm just hoping they will start getting better for Dynamics soon.