There are a couple of things about Resource Scheduling / Field Service I learned today which may be worth sharing, so here we go:
1. For those who want to try Field Service on-premise
If you already have access to the customer source, you can download Field Service files from this link:
https://mbs.microsoft.com/customersource/Global/365Enterprise/downloads/product-releases/365fieldservicedownloads#DownloadLink
There is a catch, though. When installing the Field Service into your on-prem Dynamics instance, you will be asked to login to the Office 365, and you will actually need to login using the account that has access to the required Dynamics 365 license (as noted in the previous post, Field Service is licensed through the dual rights).
So, if you are not there yet (and you'll need to be there if you ever decide to get Field Service on the production instance of your on-prem Dynamics), there is a workaround.
What you can do is:
Create a Dynamics 365 trial account
Open the link above and provide that account credentials
Download Field Service solution
Deploy it in your on-premise environment
When asked for the credentials, provide the same trial account credentials
2. For those who want to try Resource Scheduling Optimization (on-premise or not)
I thought it would be just a matter of installing the solution, but, as it turned out, things are somewhat more complicated.
Resource Scheduling Optimization is not available on-premise
Resource Scheduling Optimization is not available in the trial online environments
Neither of that is too obvious when you first look at the resource scheduling optimization page:
https://docs.microsoft.com/en-us/dynamics365/customer-engagement/common-scheduler/resource-scheduling-optimization
However, that just seems to be how it is. Have a look at the discussion here:
https://community.dynamics.com/365/fieldservice/f/764/t/216905
Either way, there is no resource scheduling optimization application in the trial environment: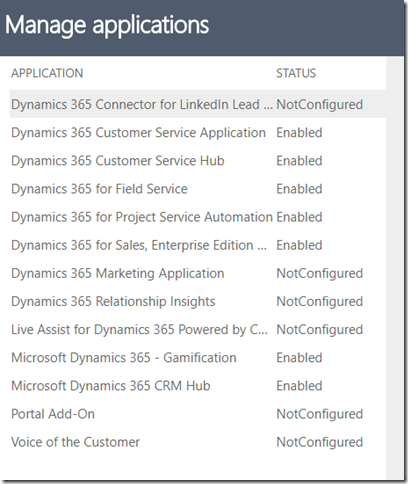 And, as for the on-premise, if you look carefully at the article I mentioned above, you'll see that it only applies to Dynamics 365 online: