Custom actions have been around for a while, but, somehow, I have not used them at all on my projects so far. I would always create a plugin or a custom workflow activity instead.. Still, I've been watching them for a while:) And what I think is missing is a set of recommendations and/or best practices around actions which would explain when and why we should be using them.
I can hear you saying "of course there are.. have you been in the trenches for the last few years?"
Technically, I probably have been, a little bit:) However, I'd like to explain myself.
What are the primary benefits of the custom actions?
In this 2014 article, PowerObjects are stating that "The most fundamental benefit of custom Actions in CRM is to allow non-programmers to build automated processes; in turn, developers can trigger this Action by using a single command, like "Approve" or "Schedule", etc. Before custom Actions, this was only possible by making code update a field or save a record that would in turn trigger a workflow."
In other words, non-developers can define a "workflow" which the developers can, then, trigger through the action. This is interesting and sort of makes sense. However, have you ever looked at all the custom actions included into the default Dynamics 365 solution (actually, it's not necessarily the "default" solution. It's what you get when you deploy Field Service, Project Service, etc)? There are lots of the out of the box custom actions, but, if you look at them, you'll notice something unexpected about them: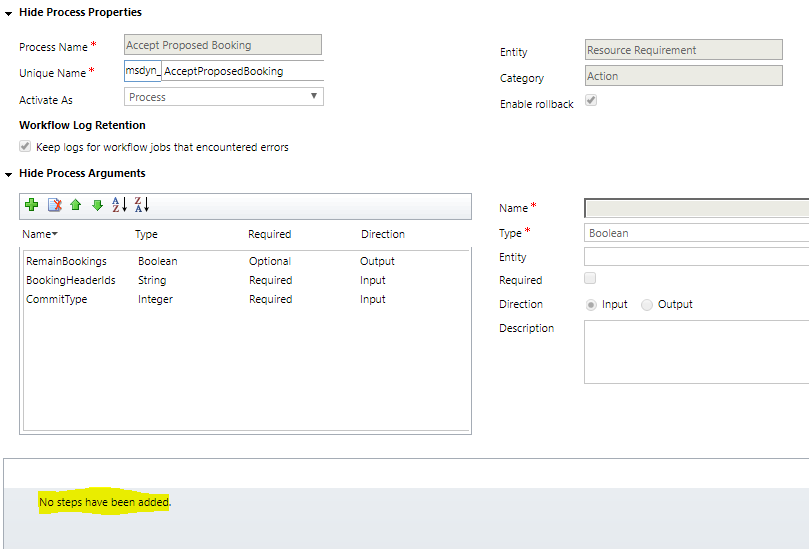 NO STEPS HAVE BEEN ADDED. Here is another one: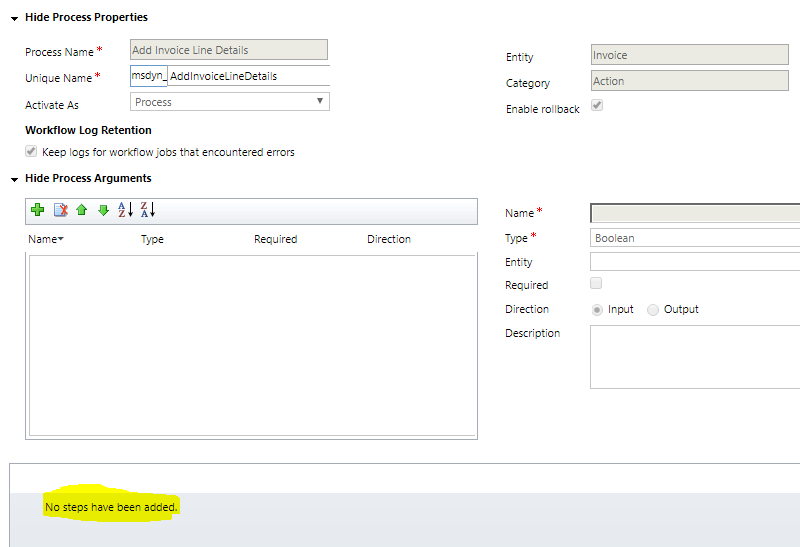 This seems to be not that unusual at all for the out of the box custom actions.
Why is there a custom action, then, if there are no steps?
The answer comes in the form of the Sdk Message Processing Step:

See? There is a custom action, and there is a corresponding message processing step. This sort of turns the whole scenario on its head, though. It's a custom action created by developers for everyone else – all the business logic is implemented in the plugin. As a non-developer, you can call this custom action from the workflow. As a developer, you can call it from a plugin/javascript. But you can't even change the business logic since it's all embedded into a plugin.
It's probably safe to say, then, that Microsoft itself is not considering the ability "of non-programmers to build automated processes" as a primary benefit of using the custom actions.
Then.. why not to use a plugin/workflow instead of a custom action?
The way I see it, there are a few reasons why we may prefer custom actions:
1. They are business logic modules that do not have triggers – we can trigger them when we need to
A workflow will trigger in response to some event. A plugin will run in response to a message. A custom action has to be triggered either as a workflow step or from the web api/plugin using code. This is a somewhat different level of control, although, it's arguable if it's that much better than using a workflow/plugin.
2. We can pass input parameters to the actions and retrieve output parameters from the action
This is actually interesting. We can't pass parameters to / from workflows or plugins. I am not sure why, at some point, the decision was made to introduce custom actions rather than to add this functionality to the workflows, for example. However, as it stands, we can only use custom actions when we actually need to pass parameters to our plugin, for instance. Or when we need to get output parameters from the plugin.
For example, what if we wanted to calculate some sort of total value? We might create a custom action which would calculate that value, and it could simply use input/output parameters to communicate with the calling process – it would not have to update any of the records and/or wait till any of the records are updated.
Or what if we wanted to find most recent case activity? We might create another custom action, and we might call it in a similar manner everywhere: in our javascripts, in the workflows, in the plugins.. That would be different from doing the same in a custom workflow activity which would require a workflow in the first place.
It seems we should be thinking of the custom actions as of the "functions". Those functions can be defined as a mix of workflow steps and plugins – we can pass input parameters into the custom action and retrieve output parameters from the custom action. The reason we can call then "functions" is that, unlike with the workflow/plugins, we can, actually, call those functions from other places – we can call them from javascripts, we can call them from workflows, and we can call them from plugins. Still, I am wondering how often do we actually need that kind of functions – as I mentioned in the beginning of this post, I have not used them on my projects at all so far, though that probably simply means the time has not come, yet.. Still, I'd love to hear about the real-life scenarios(which, I hope, you can share in the comments) where the choice between using a plugin/a workflow/a custom action was clearly to use a custom action.
That said, does it seem like I have arrived at some kind of answer as to when and why we should be using the custom actions? It could be the case if this scenario was clearly described and documented in the SDK manuals/help files. But, as of right now, I still cannot find any indication of how to pass those parameters to/from the custom action in C# code, for example, when I am looking at the SDK files.
Here is what Andrii Butenko, a Dynamics MVP, wrote back in 2013:
Actions: usage of input/output arguments in plugins that handle Actions
This is great, and this allows us to process custom actions parameters in the plugins now; however, I am wondering if that's even supported? De-facto, that's how a lot of people have been using the actions now. However, it would be great to see an msdn link where this same process would be described by Microsoft – right now this is all we have on the custom actions:
https://msdn.microsoft.com/library/dn481600.aspx
Then where does it leave us? Custom actions is a feature in Dynamics that is offering some interesting usage scenarios. This feature lacks official documentation for developers, and it also lacks official recommendations on when and how to use it. The community has been trying to figure it out on its own and has offered various scenarios so far, but, if Microsoft could add a bit of packaging to this feature in the form of more detailed documentation and samples, I think this would be very useful.