Some flows are solution-aware, and some flows are not:
https://docs.microsoft.com/en-us/flow/overview-solution-flows
It turned out the difference between those two is not just that solution-aware flows are portable – somehow, it goes deeper.
Just a few days ago wrote a post where I was trying to summarize error monitoring options for the Flows:
https://www.itaintboring.com/dynamics/microsoft-flow-monitoring/
It was not working out quite well there since the main problem I was having is that, for the Flows I was looking at, I could not get the history of Flow runs unless the Flows were shared with me.
However, that's only a problem for the non-solution aware Flows.
If a Flow is created in the solution, it's all getting much better.
Through the solution, I can open Flow Analytics for any Flow that's been added to the solution: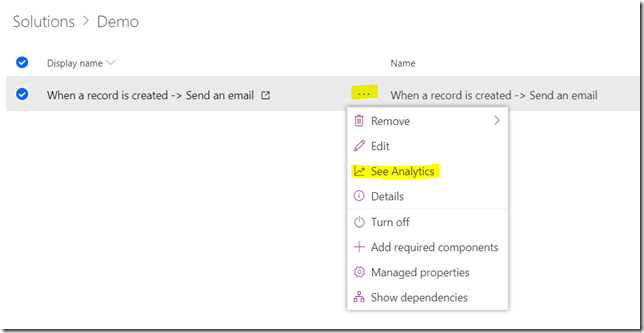 Magically, PowerShell starts showing Flow Runs history for those flows, too:

Of course one possible problem here is that we can't add non-solution aware flow to a solution, but that's probably going to be resolved this way or another at some point. Right now, though, if you are looking into Flows portability and/or some kind of error monitoring approach, don't make the mistake I did and make sure you are working with the solution-aware flows.
PS. In order for the analytics/powershell to work, we do need to have System Admin or System Customizer permissions in the CDS environment.