Before I continue.. I'm not affiliated with XperiDo, and I'm pretty sure they have no idea I am writing this blog post right now. Still, I was looking for a document generation solution, and, since XperiDo seems to have some interesting features, figured I'd try it a few days ago:
https://www.xperido.com/support/blog/microsoft-dynamics-crm-2016-document-generation-vs-xperido
Not pretending to be an expert in XperiDo, I'll just share a couple of observations which may help you get up and running a bit faster if you do decide to try it as well:
1. When you get a trial, you get a combo: Dynamics Trial & XperiDo trial
Yes, they are actually going to set up the whole environment for you. You can opt out of that if you want to try XperiDo with your own Dynamics instance, but I think it's worth doing a trial in the isolated environment, especially since you'll be getting a bunch of pre-configured templates as part of the set up.
2. XperiDo installs an add-in for Word – you can use that add-in to design document templates
However, make sure to install correct version (64 bits or 32 bits) and all the prerequisites. If you still can't see XperiDo ribbon after that (other than those 3 buttons on the screenshot below):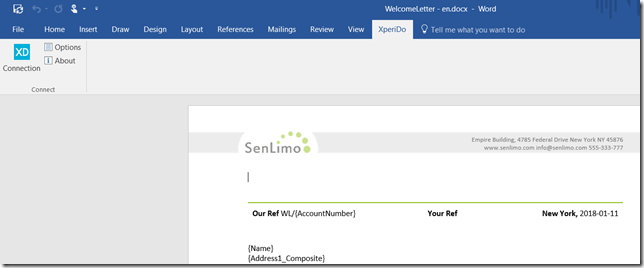 Try starting Word "as administrator" – that's what solved the issue for me when everything else failed:

May also need to keep this in mind later since, every now and then, Word will open normally (there are other places you can open it from to edit the templates), and you won't see the ribbon.
If none of that helps, try contacting XperiDo – you will likely get a follow-up email from their sales shortly after your trial starts, so you can just reply to that email. They do answer (although, I'm not sure how much effort XperiDo would really want to put into the "trial" support).