You may have heard of it already, but there is going to be a new way to purchase Power Platform services soon – Self-Service Purchase Capabilities are arriving in November: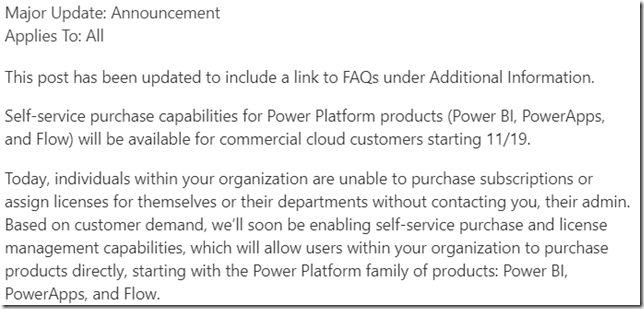 There is a corresponding FAQ page that answers some of the questions you may have:
https://docs.microsoft.com/en-us/microsoft-365/commerce/subscriptions/self-service-purchase-faq
One thing to keep in mind, though, is that there will be no opt-out – every tenant in the commercial cloud will receive this update. In general, I'm guessing this is not a bad idea to give more flexibility to the individuals and to the groups within the organization, but there are a few related concerns, and, the way I see it, Microsoft leaves it to the organizations to resolve those concerns:
"Organizations can then rely on their own internal policies, procedures and communications to ensure that those individuals making self-service purchases are complying with company policies."
Tenant administrators will be able to see who made the purchases, for instance, but, in general, this may create a bit of a shadow IT situation, and that might be more concerning for the organizations that have to comply with the additional regulatory, auditing, data security requirements, or even just budgeting requirements.
From that standpoint, the key thing to remember is that it's still the organization that would be responsible if anything goes wrong (from the compliance standpoint) with the solutions purchased and implemented through the self-service.
That said, I believe self-service can be a good thing. Somebody willing to purchase a service won't need to go through the long process of procurement anymore, and that might make the process faster/easier.
There is a possibility somebody would decide to exploit this new option and bypass the approvals/procurement completely. Are the risks that big? It would not be that different from a person in your company going rogue to start buying laptops for their department without first approving that purchase somehow, and that would not be a very likely scenario.
Still, if you do need those approvals to happen, you may want to add a few more notes to the self-service purchase policies your company has established so far.