I went to the Azure Active Directory properties earlier today for a completely different reason, and, then, I noticed something that made me jump:

What?! With the client being in Canada, all Dynamics/Sharepoint data needs to be physically stored in Canada, or this whole implementation is going to stop quite abruptly. Unfortunately, when looking at the environment properties in the PowerApps Admin Center, all we see is the region: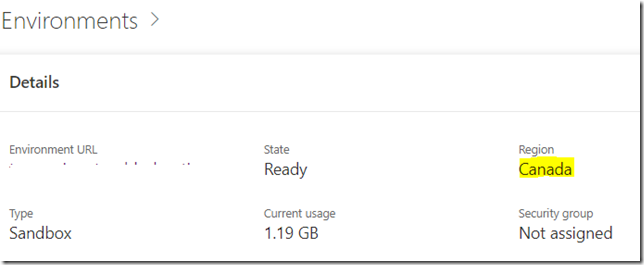 So, where is the data stored? Can it really be stored in the United States?
Usually, I don't even need to deal with this, so I think many of you would know it already, but there is a separate page that explains where your data is stored:
https://products.office.com/en-us/where-is-your-data-located
Here is what comes up for the Canada region there:

And there is another page that clarifies where the data is stored for Dynamics 365:
http://o365datacentermap.azurewebsites.net/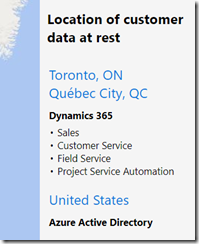 Interestingly, I don't see anything specifically for CDS (what if it's not a Dynamics 365 CDS instance, but a regular CDS instance?)
Well, I probably would not know where the data is either way – it's really up to Microsoft to ensure it's stored in the right place, but it would be great if there were a single page to see all those locations "per service" on a single page, including locations for Dynamics and/or regular CDS data.
Anyway, with those two links above combined, it seems all our data will actually be stored in Canada, so it's business as usual.