With the release plans out there now, I guess quite a few of us have been browsing through the documentation trying to figure out what is it we'll be able to do once all those new features become available.
It's sometimes difficult to gauge what exactly the product team is planning to release just based on those notes in the release plan, so, sometimes, we can only guess. With that in mind, there are a few thigs I'd be looking forward to try.
We seem to be getting reusable code in Canvas Apps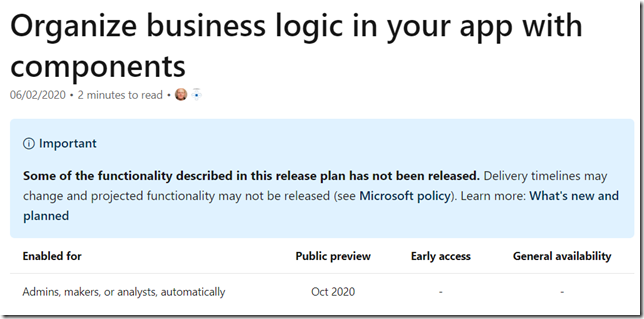 I have at least a few questions about how exactly this is going to work, since our inability to reuse "code" has been a long-standing problem in the Canvas Apps world. Of course this may mean that my "Code Reuse" tool for XrmToolBox will be short-lived, but that's just for the better. As much as I recognize the importance of XrmToolBox for the community, I would very much prefer all that functionality to be provided by the platform itself. If we were able to, essentially, start creating reusable "functions"… oh, that would be awesome, and I'm hoping that's exactly what it is.
Canvas app will surface themselves in the model driven apps in the form of custom pages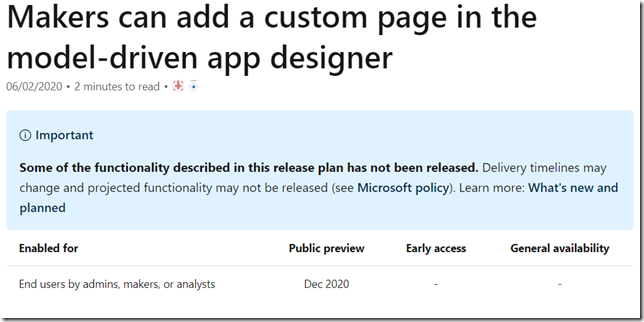 This goes really well with my "canvas apps will take it over" conspiracy theory. It seems to be yet another step in that direction!
This one will probably make a headline in the CRM Chart Guy (aka Ulrik Carlsson) blog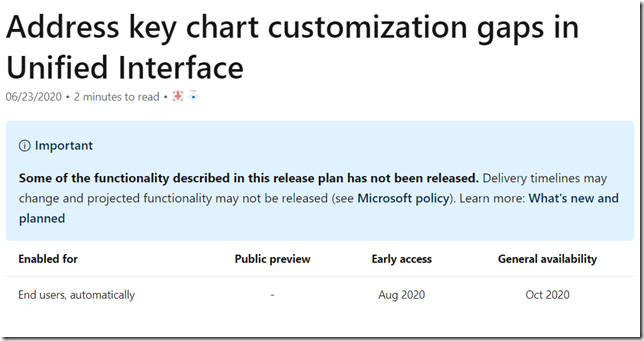 You might be using Power BI these days, but there are still out of the box dashboards. I believe this is all about closing the gaps in preparation for the following item, which is
The decommissioning of the classic web client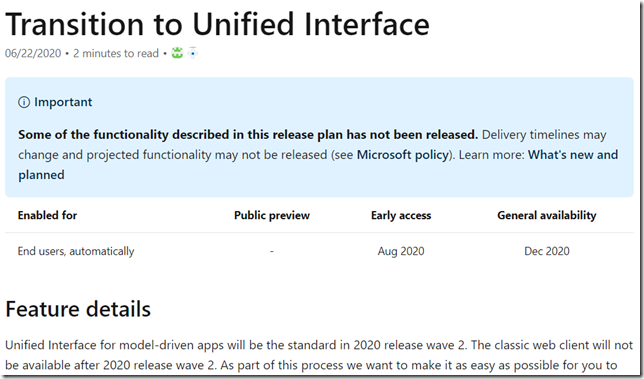 Like it or not, the days of the web client are counted. Take the screenshots while you can – classic web client has served us well over these years, but it's, finally, time to let go.
On the PowerAutomate side, there is a lot of emphasis on the RPA. Just look at the list of features listed in that category, compare that with the other two, and you'll see why I'm saying this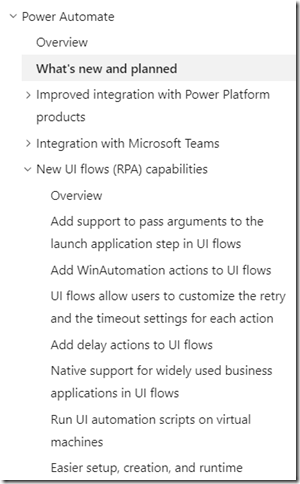 As far as Power Virtual Agents go, think I'd like to try this one

Anyway, if this has sparked your interest, there are a lot more features listed in the 2020 wave 2 release plan. So, instead of me trying to summarize them here, just have a look for yourself:
https://docs.microsoft.com/en-us/power-platform-release-plan/2020wave2/
I'm sure everyone will find something to look forward there – pretty much every area in Power Platform will get some features and enhancements as part of this release.